Makeup Remover
Vegan and cruelty-free makeup remover. You can shop with the assurance that all of the makeup products we list on Get it Vegan, including the makeup remover below, are 100% free of animal by-products, ingredients and testing of any kind.
---
What does "vegan & cruelty-free" mean in terms of makeup remover?
The term "vegan", with regard to makeup remover, refers products that don't contain ingredients that are derived or sourced from animals or insects. The term "cruelty-free" however, refers to products that are free of animal testing, including the individual ingredients used in those products.
In other words, 'cruelty-free' refers to the testing methods, while 'vegan' refers to the origin of the ingredients.
What animal derived ingredients are commonly used in makeup remover?
It may seem strange that in this day and age, animal and insect by-products are still included in things that are rubbed onto your face... but it happens. Below is an overview of some of the most common animal and insect-derived and sourced ingredients that can be found in makeup remover pads, pens, wipes and facial towelettes.
Glycerin: Animal fatty tissue. The carcasses from which glycerin is derived can come from a myriad of unfortunate sources such as labs, slaughterhouses, zoos, shelters, and 'roadkill'. Glycerin is primarily used in makeup remover as an emollient, to soften or soothe the skin. Fortunately, glycerin can also be derived from plants.
Fragrance: Often simply listed as "fragrance" on a bottle, it's a compilation of substances, that may contain animal-derived ingredients such as lanolin, castoreum, deer musk, cat musk, ambergris, and hyraceum (these ingredients may also be listed individually on labels). "Fragrance" can also be vegan-friendly, but unless you know the brand to be vegan, you may have to contact them to double check.
Lactic Acid: When animal-derived, it's found in blood and muscle tissue. It's used in makeup remover as an exfoliant (and used in anti-wrinkle products). Vegan alternatives to lactic acid include plant-based sources such as beets, or can be produced synthetically in a lab.
Stearic Acid: A fatty substance that's used as an exfoliant in makeup remover, it's often taken from the stomachs of pigs, and sometimes even euthanized pets. Fortunately for animal lovers, and for the animals themselves, stearic acid can be found in many plant and vegetable fats, including coconut.
Beeswax: For the sake of fanciness, it's often referred to as "Cera Alba" on cosmetic product labels. Beeswax is made from melting honeycomb with boiling water, straining it, and cooling it. It's used in makeup remover gels and creams as a thickener, and an emollient. It also happens that many bees are killed or have their wings and legs torn off because of haphazard handling when they are farmed. Vegan alternatives to beeswax: Candelilla wax; Soy wax; Sustainable carnauba wax, Cerecin.
Watch Out! Many makeup removers list ingredients as being from "Natural Sources"; this can include animal sources. If you're not sure, you can always ask the company that makes it prior to purchasing their product.
How can I be sure that the makeup remover I'm buying is cruelty-free?
Despite the rampant deception in the world of cosmetics sales, there are legitimate third party certification bodies that independently assess whether or not brands and individual products are actually abiding by recognized cruelty-free standards.
The best way to ensure that you're buying a cruelty-free makeup remover product is to find one with that has the approval of one of these third party certification bodies printed on it, by looking for one of their logos. 3 of the most common cruelty-free labels include: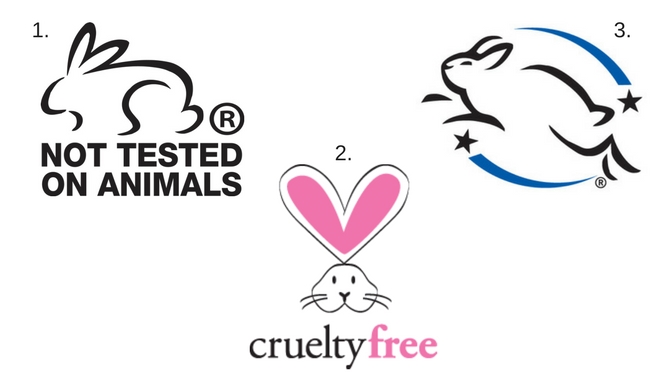 Don't be fooled! Because these certification bodies all use images of bunnies, so will scammers. Make sure you spot a logo you recognize as legitimate 3rd party verification, such as those above, prior to buying a makeup remover.
What brands make vegan & cruelty-free makeup remover?
While many brands still use animal ingredients, others are going completely vegan and creating a range of high-performance makeup removers that are produced without animal testing or animal-based ingredients. Some brands that produce makeup remover pads, pens, creams, wipes and/or cleansing oils that are completely vegan and cruelty-free include:
Is vegan & cruelty-free makeup remover expensive?
In general vegan and cruelty-free makeup remover is not any more expensive, or any less-expensive, than makeup remover that contains animal/insect derived or tested ingredients.
Just like non-vegan products, the prices of vegan and cruelty-free makeup remover pads, pencils, gels, creams and other products can vary based on differences in the quality and the availability of the ingredients used, differences in the manufacturing processes employed, different brands behind them, as well as a many other factors.
Why should I buy makeup remover that's 'vegan' & 'cruelty-free'?
The farming and sourcing of animal and insect-derived ingredients is inherently cruel, not to mention just plain gross. If that's not enough to convince you, it may help to know that, in many, if not all cases, plant-based ingredients are superior to animal and insect-derived ingredients.
Buying makeup remover that you know is vegan & cruelty-free is important because it creates demand for animal-friendly of products, and reduces demand for inhumane and inherently cruel products. It is thus a very effective form of animal-welfare activism, often referred to as 'voting with your dollars'.
Basically, if we as consumers stop paying companies to put these grotesque and cruelty-ridden ingredients in makeup remover and other products, they will stop doing it.
---
Similar product categories
If you've found this page on vegan and cruelty-free makeup remover helpful, check out similar product categories to learn or shop more:
For companies that make vegan & cruelty-free makeup remover
If you make vegan and cruelty-free makeup remover, cleanser, or any other vegan/cruelty-free cosmetics for that matter, we'd love to feature you and your products on the "Brands We Love" section of our site! Contact us at  - info(at)getitvegan(dot)com - to get started!
Sources
Part of the information for this guide on vegan & cruelty-free makeup remover was gathered from the following sources: