More and more vegan shoe brands are popping up these days, with the United States are now being home to several of them, many of which are based in California – we've chosen to highlight 5 of them here.
Please Note: The companies below are either certified vegan, or have confirmed with us that there are absolutely no animal-derived ingredients in their shoes, boots, sandals or other products… right down to the glues!
---
1. Arcas Bear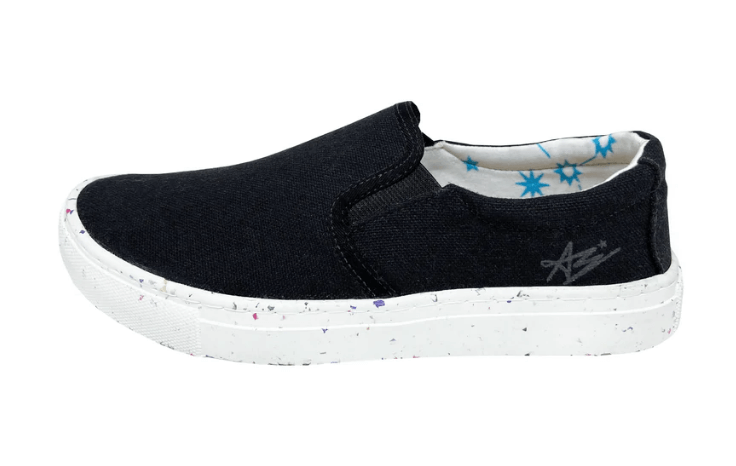 Arcs Bear is a company that cares deeply about animals, the environment, and the people that make and wear their shoes. They are one of the most certified companies we've come across yet, in terms of their level of animal-friendliness, fair labour, and sustainability.
Made in: Portugal
Made for: Unisex
Ethics: Fair labour; PETA-approved vegan; PETA-certified cruelty-free; Charitable (One Tree Planted)
Sustainability: Part of the F.A.K.E. movement; GOTS certified organic cotton; many recycled and natural materials
Range: High-top sneakers; low-top sneakers; ankle boots; booties; cowboy booties; dress shoes; gym shoes; slip-on shoes
Price Range: $$-$$$
---
2. AVRE
By using eco-friendly and innovative animal-free materials, and donating 10% of their proceeds to causes that directly support their dual missions, AVRE is breaking the age-old cycle of using fashion as a vehicle to exploit animals, workers, customers and the planet.
Made in: Dong Guan, China
Made for: Women
Ethics: Charitable (contributes to "Girls in Tech" & "Oceana"); pursuing fair labour certification
Sustainability: Algal bloom insoles; made from recycled PET bottles; no scraps created using 3D "knit-to-shape" production
Product Range: Walking shoes; no-tie shoelace shoes; slip-on shoes; chunky-heeled shoes; athleisure shoes
Price Range: $$-$$$
---
3. Indosole
Founded in 2009 by Kyle Parsons, Indosole makes minimalist sandals from recycled tires, recycled shoes (new line), natural rubber, and some virgin materials, such as nylon. They typically sell in a mid-range price point, and are available worldwide through a large network of retailers.
Made in: Bali, Indonesia
Made for: Men; women; children
Ethics: B Corp Certified
Sustainability: Made primarily with recycled tires and natural rubber
Product Range: Flip-flops; slides; cross-strap sandals; thong sandals
Price Range: $$-$$$
---
4. Kallie & Co.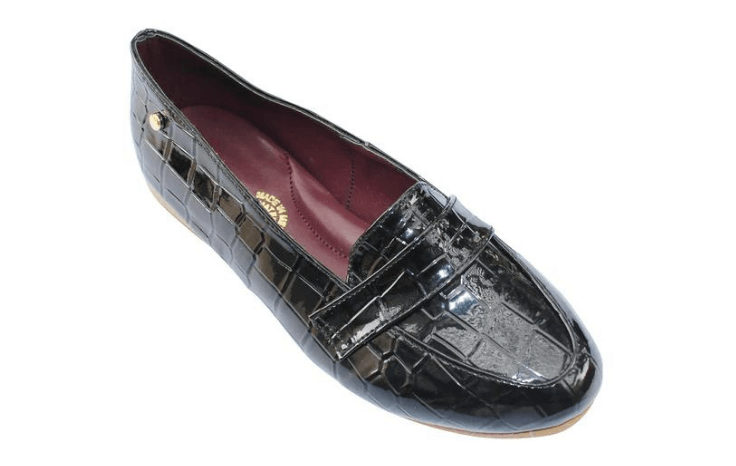 Kallie & Co. is focused on female empowerment – they work with artisans in Mexico, exclusively employ military wives (non-shoe making team) and contribute to Good 360.
Made in: Mexico
Made for: Women
Ethics: PETA-approved vegan; charitable (Good 360); employ military spouses; work with artisans
Sustainability: Made with "recycled materials and fair-trade fabrics and threads"
Product Range: Flats; mules; low-top casual shoes; dress shoes
Price Range: $$
---
5. Soneha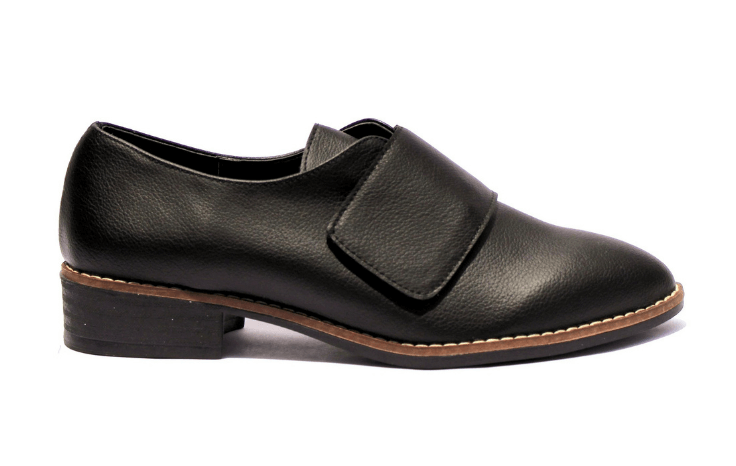 Founded in 2021, Soneha uses innovative Desserto® organic cactus leather to make accessibility-focused unisex dress shoes, that help address challenges that people with low motor skills face.
Made in: Mexico & India
Made for: Unisex
Ethics: PETA-approved vegan; charitable (Indian charity Sadeeve – focused on alleviating poverty)
Sustainability: Made with organic cactus leather; recycled rubber soles; eco-friendly packaging
Product Range: Accessible dress shoes
Price Range: $$$
---
5 companies not enough? We get it, but don't worry – if you want to see more, check out our All Vegan Shoe Brands page to browse through more than 100 certified and non-certified vegan shoe company profiles.