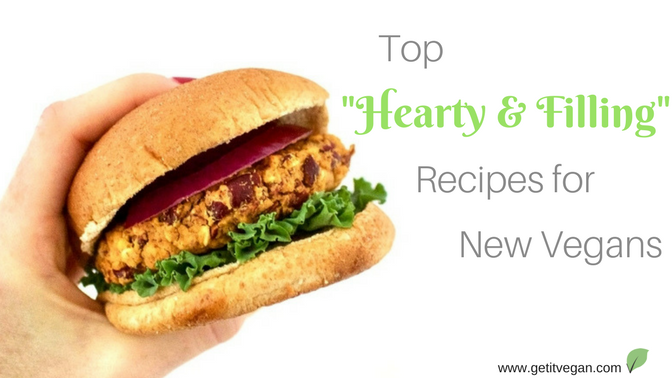 Are you new to being vegan, or considering a plant- based diet and worried you'll never feel full again? Well put those fears aside; there's more to this lifestyle than eating salad.
For those among us who come from a culture where meat is traditionally the focus of every dinnertime meal, and vegetables are merely side dishes, the prospect of switching to a fully plant-based diet can be a little overwhelming, very frightening, and might even seem downright impossible.
It turns out, it's much easier than you might think.
If you're thinking of switching to a plant-based diet, or you've recently become vegan and you're struggling to stave off hunger, there's good news; you don't have to eat more salads just to feel full. There are an amazing variety of hearty, delicious and filling meals just waiting to be discovered.
To help you navigate these new dietary waters, we've asked some of the top vegan recipe creators, curators, and food bloggers what their go-to recipes are for sharing with new vegans, that will help them stay full and satisfied after eating.
"The first advice I give to anyone who wants to switch to a plant-based diet, or eat more meatless meals in general, is to think of it as an opportunity to explore new recipes and look at vegetables in a whole new light. So many people never venture further from preparing vegetables in a "mainstream" way such as steamed or in a side salad, but when you start looking at vegetables as the main event, it opens up a brand new realm of possibilities.
Try taking one of your favorite meat-based recipes and recreating it with your favourite vegetable instead, such as in this Sticky Sesame Cauliflower dish that gives you all the same deliciousness and flavor of the classic Chinese-restaurant dish."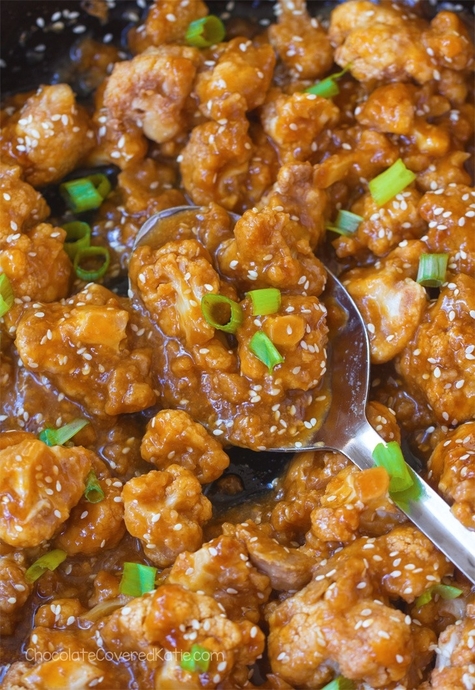 "My all-time favorite go-to recipe is this; bean and zucchini cutlets: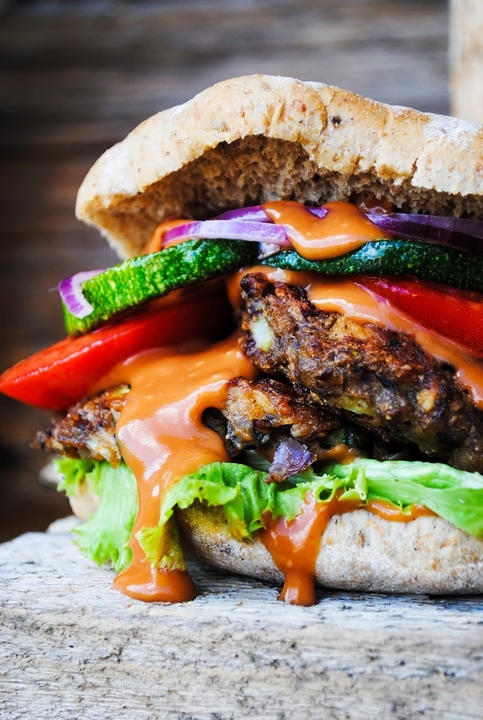 They need only a few ingredients I always have at home. Plus they are super filling, very tasty and comforting. They remind me of the cutlets my grandma used to make. Perfect with potatoes or on a sandwich."
"My go-to recipe is my Kidney Bean Burgers. These are my go-to because they are just so satisfying! Put them on a bun with all the fixins and you'll be in veggie burger heaven. They are super easy to prepare and use only 6 simple ingredients, making them a perfect recipe for new plant-based eaters. So tasty! I love to serve them with sweet potato fries on the side, too."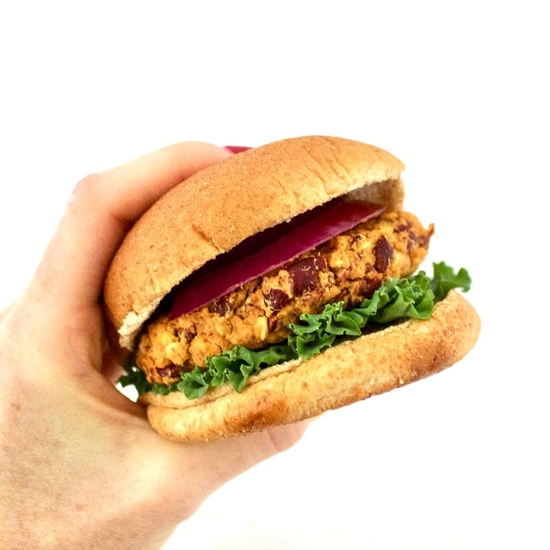 "I'm a big fan of drinking a hot drink after dinner to help me feel full after eating. One of my favorite drinks is my Tea-Infused Hot Cocoa."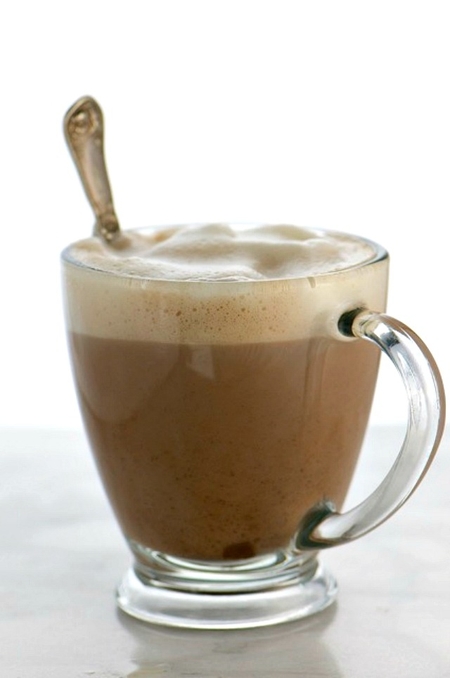 "When cooking for new vegans, I like to show them that they won't be missing anything. In fact, vegan food can be fresher and more delicious than most meals built around animal products. One of my favorite recipes to show this is Coconut Curried Sweet Potato & Chickpea Stew. With the creamy coconut milk, sweet potatoes, and vibrant spices, it's a great demonstration of how good vegan food can be!"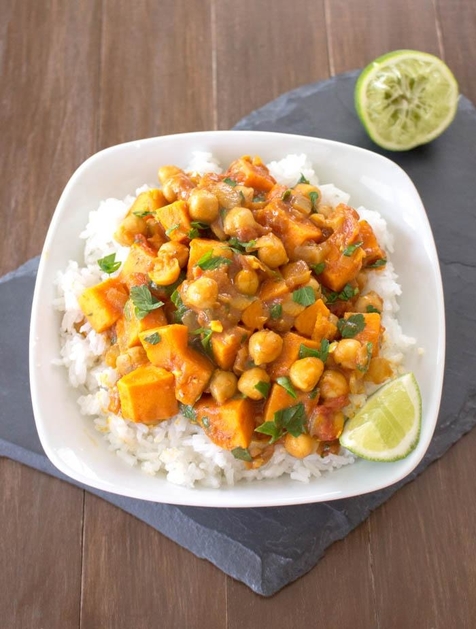 "I rarely have friends over for dinner. I also try not to repeat myself too much food wise so I don't really have a staple recipe to share. When I do have guests over I try to include something surprisingly vegan on my table (I don't live in a vegan home, my husband is an omnivore) even if the whole meal isn't vegan. I think it's important to be open minded when it comes to food and I always think it's worth showing your guests what's possible with plants if you get the opportunity.
That being said, some of my friends aren't ready for a crazy hippy style meal so I stick with familiar recipes they might enjoy – like vegan fish and chips or mashed potatoes with vegan gravy. And as the baker in my home, dessert is always vegan. I usually make something chocolatey or something fruity. I just developed a vegan berry cheesecake parfait recipe I'll share on my blog soon. Nonetheless, here's a recipe I consider hearty enough for meat eaters to enjoy":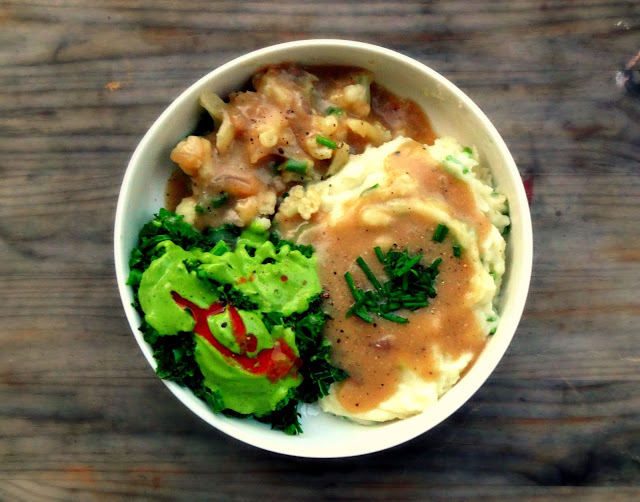 "I reckon one of our faves is Korma Stuffed Sweet Potatoes. Everyone loves a good baked potato recipe, but this one is next level! Made from sweet potatoes, it's healthier, and it contains beans for that added protein. Stuffed full of veg, this sweet potato recipe will fill you up and not leave you hungry. You can top it with whatever you want. We topped ours with a creamy garlic and tahini dressing and some sprouts. You could put some vegan cheese on top, or fried onions, avocado or fresh herbs (or all of it!). This recipe was recently featured in the new Australian Vegan Magazine."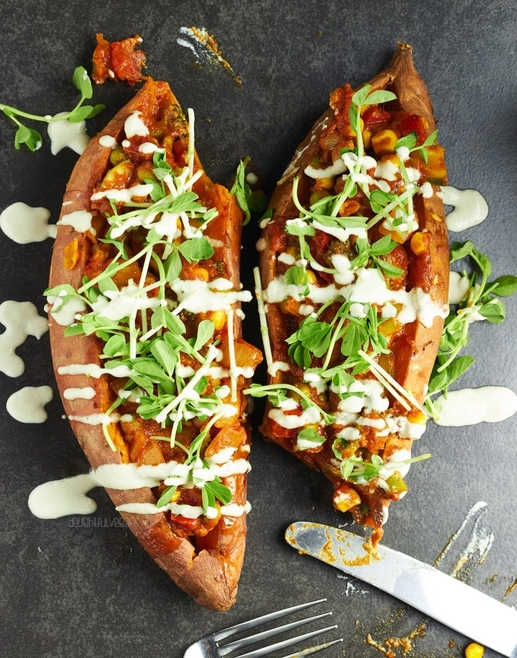 "I've won more than one 'but I could never give up cheese' person with my Nacho Chee-Zee Sauce recipe. Drizzle over chips, mix with quinoa or rice for a zesty casserole, or use it as a dip. The ingredients are inexpensive and easy to find, and it's a great intro to plant-based cheeses."
Please Note: The recipe for the Taco Lasagna is in the book, "Bake and Destroy: Good Food for Bad Vegans".
"We like to emphasize whole foods as often as possible. For those shifting away from meat and dairy, we recommend trying some black bean burgers or vegan Mac'n'Cheese – both are tasty, familiar comfort foods but just a lot healthier and cruelty-free. This vegan mac and cheese is our personal go-to favorite: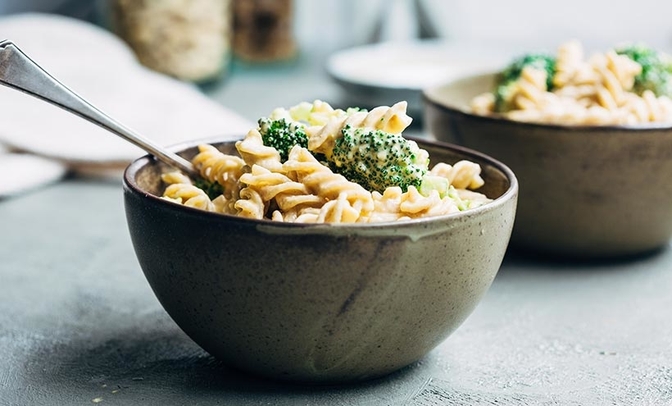 Usually, denser plant-based foods like beans or nuts (as in the vegan cheeze sauce) work well for satiation and are nutritious choices."
"Whenever I'm hosting new vegans or people considering shifting to a plant-based died, I love to serve hearty, bean-based meals like my Three Bean Chili with Cashew Cream or Red Lentil Pumpkin Soup. I love pairing these meals with some homemade cornbread or a whole grain such as brown rice. They are always a hit and leave everyone feeling happy and satisfied!"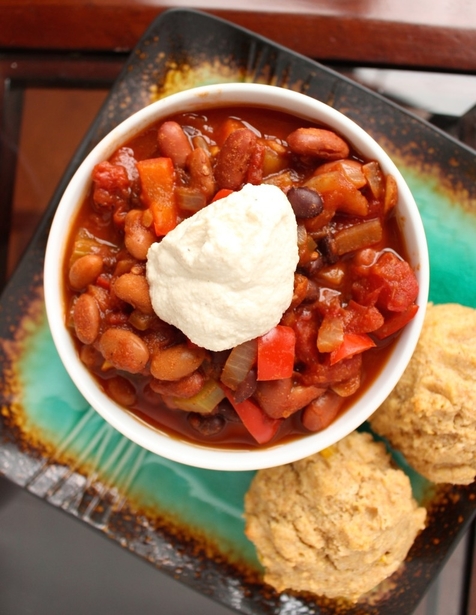 "I first ask them what their favorite meal is and help them to veganize it. Or I ask them what they are worried about missing most and give them some sturdy vegan options. Then for hearty meals, I try to help them learn how to build a meal bowl. Complete with veggies, protein and loads of flavor! And if all else fails, I tell them to try my sweet potato veggie burgers with avocado and call it a day!"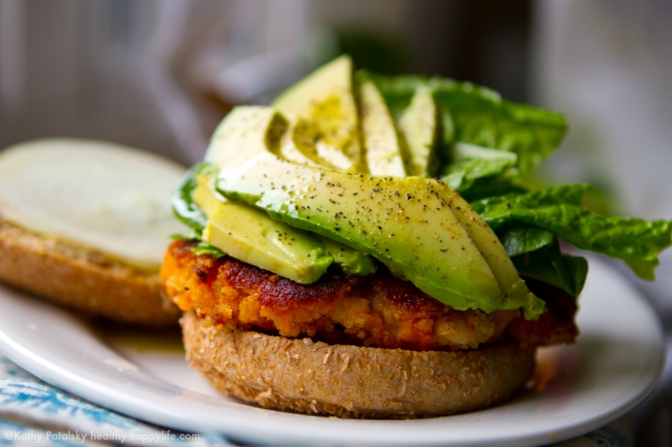 "My go to recipe to keep people feeling full and satisfied (myself included!) is a Moroccan Stew with Squash and Chickpeas. I love that it is so much more than just a salad or veggie burger, it is rich and nourishing and full of delicious flavours like cinnamon, cumin and harissa. The squash can be replaced by sweet potatoes depending on the season. It's so unique yet comforting in the same bite."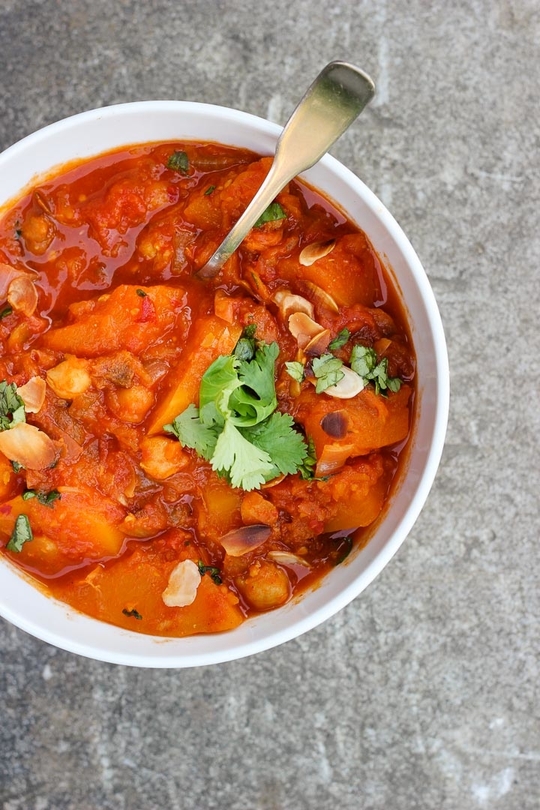 "My go-to meal to serve new vegans is mac and cheese! When many people contemplate going vegan, the one thing that seems to stand in their way is cheese. Many feel that they cannot live without it! The thought of never having mac and cheese again is almost enough to make some weep! The truth is you will not be macaroni and cheese deprived when you go vegan!
When I serve this sweet potato mac and cheese, my guests look at me like I've secretly stuffed some cheddar in there! It's creamy and delicious all without using soy cheeses or other artificial ingredients. This one also happens to be gluten free and oil free. I like to up the nutritional value of this dish by adding spinach and even steamed broccoli."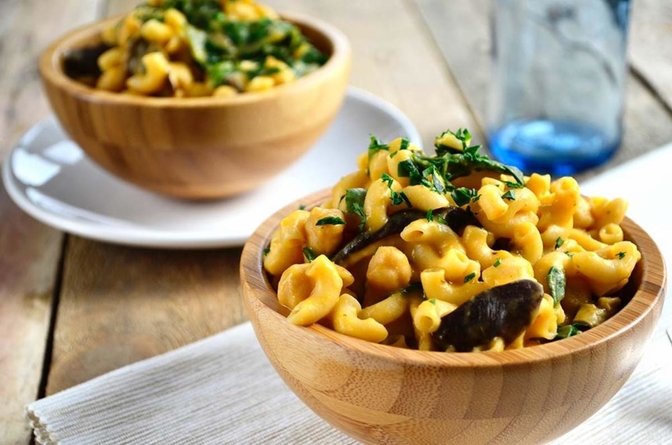 Oven roasted mediterranean vegetables come together with chickpeas, tomato sauce and herbs to form a super simple yet satisfying plant-based dinner any night of the week.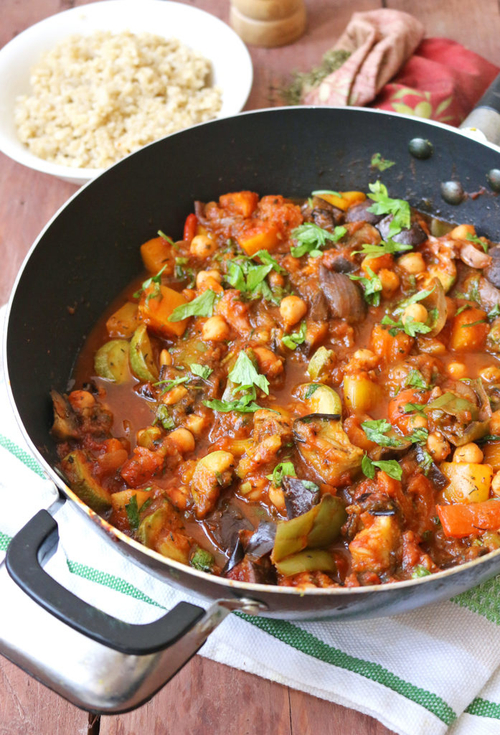 "One of my go-to weeknight dinners is stir fry served over noodles or brown rice with a flavorful sauce, and a protein-rich meat alternative like tofu. My Kitchen Sink Pad Thai recipe fits the bill, and explains how to make perfectly-browned, crispy tofu. Once you get the hang of it, you can mix it up by using different vegetables, or making different stir fry sauces."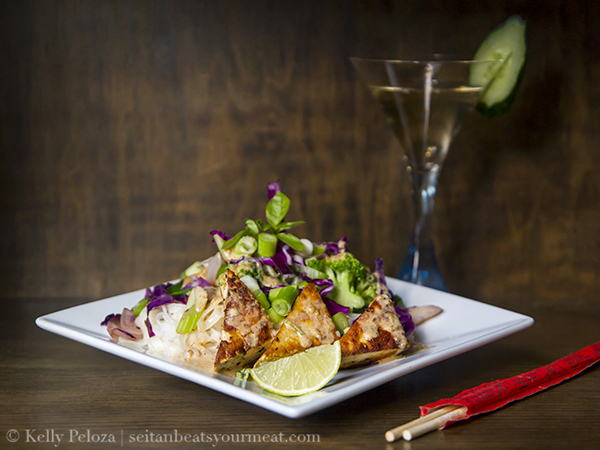 "My two rules of plant-based cooking are keep it fresh and keep it simple. A grain, a legume like beans or lentils, vegetables, fruits and healthy fats like nuts, seeds or avocado. All of these whole-food plant-based foods are full of fiber. High fiber foods fill you up faster and help you feel fuller on less calories. When in doubt, use the vegan power plate or make a high fiber soup, sprinkled with seeds and a side of baked fruit. One of my favorite meals is a simple bowl of brown rice, black beans, ginger lime salsa and topped with a healthy fat like avocado."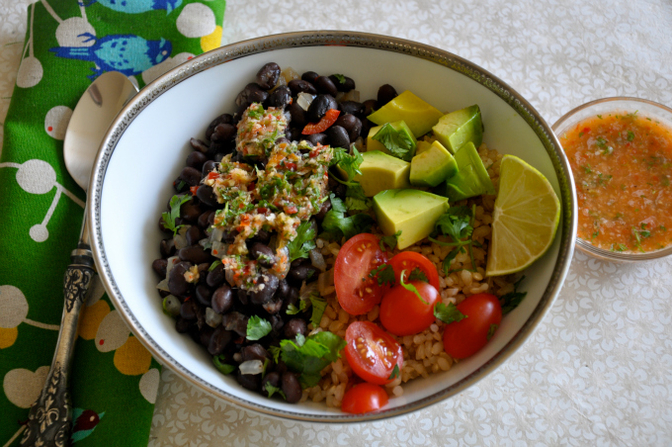 I definitely have plenty of hearty, healthy dishes that could satisfy the most voracious of appetites. What comes to mind first is my Non-Boeuf en Daube, Hoppin' John Risotto, and Cheesesteak Sandwiches, just for starters.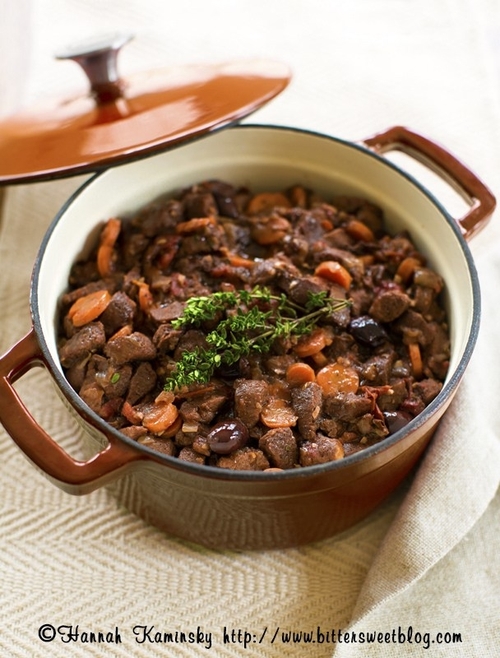 "Pasta is one of the easiest dishes to 'veganize', and because it's familiar and homey comfort food for many, it's one of the most accessible for those new to, or transitioning to, a diet that emphasizes plant-based eating. I love a hearty, flavorful tomato sauce, and in this recipe, ground chickpeas replace the traditional meat. I promise, you will never miss it!"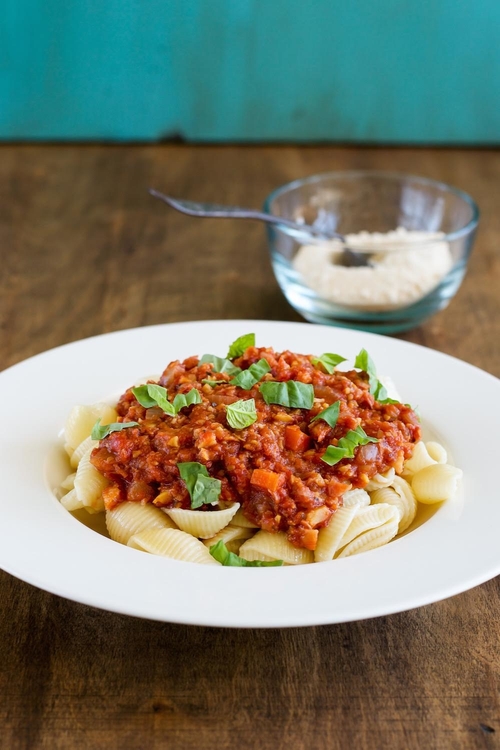 "This Mung Bean and Coconut Curry is one of my favourite vegan recipes that everyone loves, no matter what kind of diet they're accustomed to. It's rich and hearty and PACKED with flavour, and doesn't require any hard to find ingredients."
"We would recommend our Lentil Loaf recipe, which still draws more traffic and positive feedback than anything we've published on our blog.  Maybe it's because meat loaf is something people associate with home cooked food, or comfort food, and naturally assumed they couldn't make it while eating a vegan diet.  Maybe it's because it's easy to make and very filling. In any case, we're happy that it's helped people to enjoy their life as vegans just a little bit more."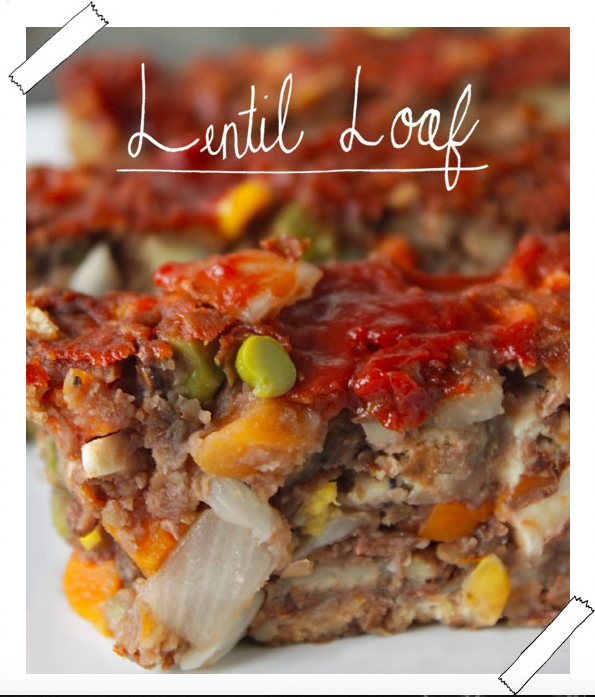 Are you a vegan food blogger, recipe creator or recipe curator that would like to contribute a recipe to this collection? If so, send your suggestion to tim (at) getitvegan (dot) com!
Tim is the Founder of Get it Vegan. A vegan for nearly 2 years, he spends his days learning about veganism and animal welfare issues. He enjoys finding vegan friendly items and saying, "Look, this is vegan!" to anyone who will listen.