Between being handcrafted in ethical Portuguese factories using the finest sustainable, eco-friendly and innovative vegan materials, and winning the "Best Cruelty-Free Shoes" award at the PETA Fashion Awards, it's no wonder that animal-friendly celebrities like Bryan Adams and Emma Watson can be seen wearing Bourgeois Boheme shoes when touring and promoting films.
We've caught up with Alicia Lai, Founder of Bourgeois Boheme, to find out more about this ethical and ultra-stylish, powerhouse brand of vegan footwear.
Q: What was the motivation behind starting Bourgeois Boheme?
It was a desire to show that there was a better way to produce fashion for the environment, factory workers and animals. As a sustainable and vegan company this extended to showing the best alternatives to animal derived materials as well as keeping true to our ethics of doing things more sustainably and fair.
Bourgeois Boheme was created back in 2005 by myself, a qualified podiatrist who couldn't find any quality and style-led vegan accessories and footwear on the market at that time.
I began selling online vegan accessories and footwear based on my ethics as a vegan – that no animals should be harmed for anything, even fashion. I had a sabbatical for 2 years to spend time with my 2 young children and re-launched Bourgeois Boheme in 2014 as an exclusively vegan footwear brand.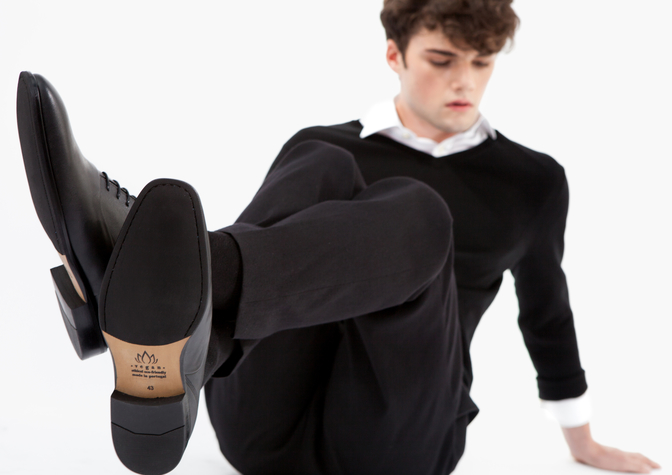 Q: Why is it important for Bourgeois Boheme footwear to be made under ethical conditions in Portugal?
One of fashion's worst kept secrets is the fact that the majority of workers in the global fashion industry cannot afford to live with dignity, earning around 6 EUR per day. In addition, accidents like the Rana Plaza factory collapse in 2013 shows dangerously poor working conditions, risking the health and lives of men, women and children employed within the factories, is just one example of how the fashion production chain violates basic human rights.
Since our inception, skilled Portuguese artisans working in three hand-picked factories in sunny São João da Madeira have been making each pair of BB shoes using traditional techniques. Where large brands often find it impossible to know where their product is made, I make it my business to visit our factories personally several times per year.
Apart from the ethical aspect, we also value the great Portuguese artisanal quality of production which has a famous reputation for its outstanding shoemaking and craftmanship. This way we can guarantee that our BB shoes will last for a long time.
Q: Why was it important for Bourgeois Boheme to obtain 'PETA approved vegan' status?
It is important to us as a brand to be PETA approved as this assures our customers our products are entirely animal-free. We love to be part of a community that cares about animal welfare and spreads the word that a vegan lifestyle can help the environment and an end animal cruelty.
Q: What sets Bourgeois Boheme apart from other vegan footwear companies?
Our motto has always been that a good vegan shoe is not just about excluding animal materials. We care first and foremost about designing animal and environmentally friendly shoes which stand the test of time, but also being pioneers of new innovative materials which sets Bourgeois Boheme apart from other brands.
This season we introduced the pineapple leaf fibre material Pinatex and cork. For our next collection we will continue to use our bio-polyoils seed-based material for our linings and also introduce an eco-stone material which will dress some of our AW17 styles. Our designs are exclusive BB styles and our aim is to create beautiful and versatile shoes for men and women, who like ourselves, care where our shoes come from.
With a particular flair for timeless British style and contemporary utilitarian designs, we are consistently producing brand-exclusive, artisan made shoes in our Portuguese factories. In short, we work tirelessly to produce better shoes in a better way – redefining the perception of leather-free footwear as we know it.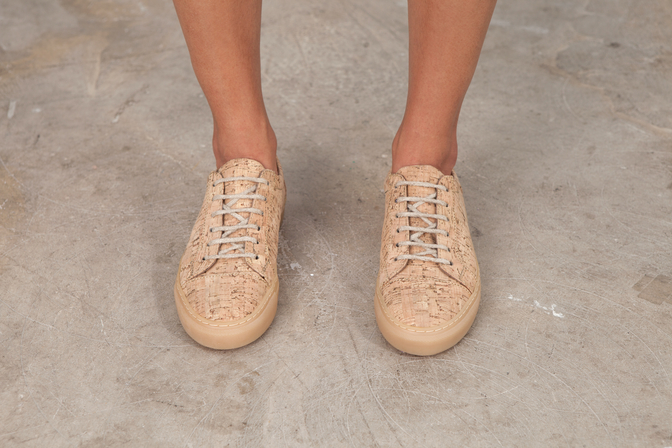 Q: What styles of footwear do you currently carry?
For Spring/Summer '17 we first made sure to get our hands on some ground-breaking material innovations like cork, pineapple fibre Pinatex and seed-based material from food-free crops which we use for all the inner linings of our shoes.
For men, we took our favourite sophisticated styles including monks, Derby's, Chelsea's and brogues and gave them a new bespoke last and luxury sole with a more defined and durable welt – specially designed on the brief to perfect BB's signature style.
The men's range also sees the return of vegan suede in the shape of a luxurious navy brogue, crafted into vegan perfection. For women, we found inspiration in natural, summery shades and materials which they turned into light, feminine slip-ons, mules, brand new heels and more androgynous lace-up shoes.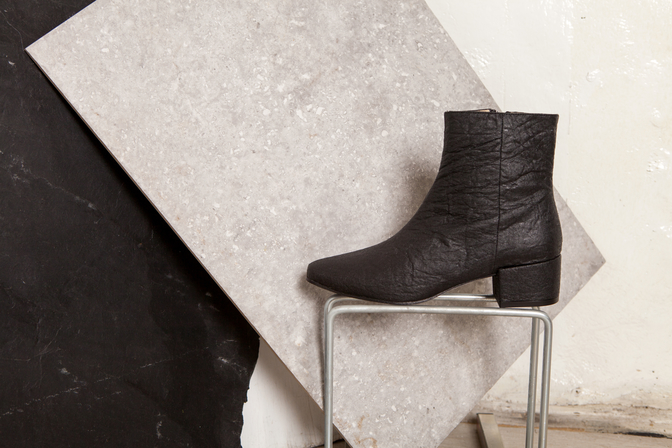 Q: Have you been receiving great feedback about your Piñatex line?
The feedback regarding our new Pinatex collection has been outstanding! At the end of April, during Fashion Revolution Week, we opened our first pop-up shop for a week in Shoreditch called 'The Pineapple Room', which celebrated this innovative material as well as sustainable and ethical fashion.
People are amazed by the material's characteristics, being a by-product of the pineapple harvest with no need to use any extra land, water, fertilizers and pesticides to produce the material. The end product is very strong, breathable and waterproof which suited well for the use of the uppers of our shoes.
Customers that have already purchased our Pinatex styles are complimenting us on how the shoes are very comfortable, soft inside (as lined with our bio-polyoil linings) and are easy to treat.
Q: Bourgeois Boheme makes some seriously stylish shoes, have they been getting a lot of celebrity attention?
Yes they have! We've seen our BB shoes on Bryan Adams which he used constantly for his 'Get Up' world tour this year, Natalie Portman, actress Torrey Devitto, UK Xfactor finalist Jahmene Douglas and lately Emma Watson used our shoes during the press tour for her film 'Beauty and the Beast'.
We have also been featured alongside Stella McCartney in British Vogue for winning the 'Best Cruelty-Free Shoes' Award in the PETA Fashion Awards. Our shoes have also been spotted in Cosmopolitan UK, ELLE UK, InStyle, The Independent, The Guardian Observer Magazine and FOX29 TV in Philadelphia.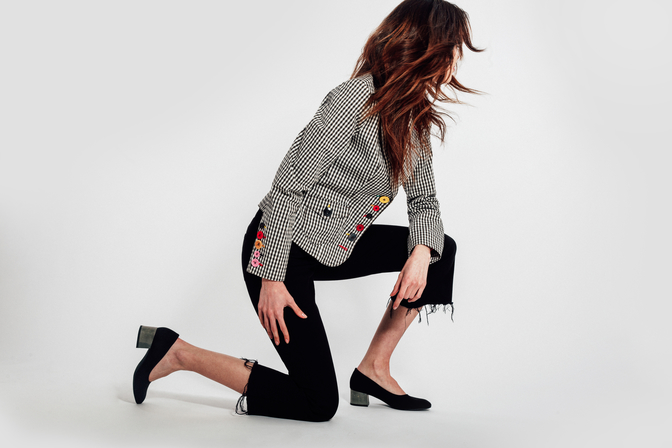 Q: How about from non-vegans?
We've had a great response from bloggers and customers that are non-vegans but are interested in shopping ethically and sustainably and love the styles we produce!
Q; What's the most satisfying part of running Bourgeois Boheme?
Running a business is super tough. Often seen as glamourous, there are so many unglamorous aspects to running a fashion business and as Founder I get the rough end of the stick to manage these whilst I would like to spend more time on the more creative processes.
I am working on balancing this out plus having a better work-life balance so I can spend more time with my 2 young vegan daughters and oh yes I suppose the husband too 😊.
It is my passion for a more peaceful, sustainable and vegan world that keeps driving me. It's satisfying to run a business based on my ethics as a vegan, and even though we are a tiny speck in the grand scheme of the world, it's great to think that with each little step that is taken in our shoes it is a step closer towards my passion.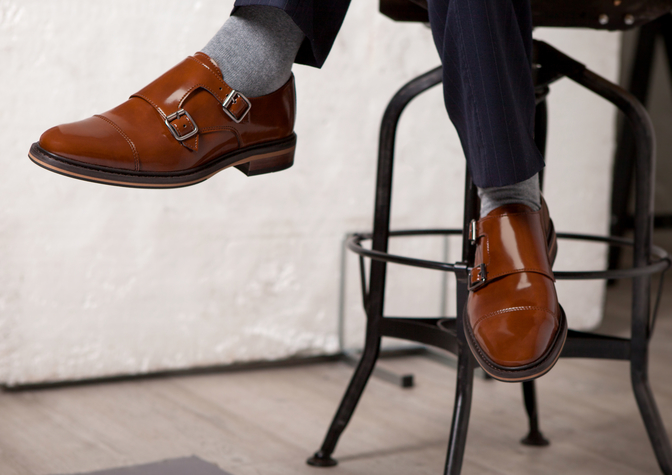 Q: Where can Bourgeois Boheme footwear be purchased?
Our shoes are mainly sold online at our UK-based site www.bboheme.com, our US-based site us.bboheme.com, and at some selective retailers around the world. We also have personal fitting appointments (free of charge) at our London offices. Do email the BB team for more information at [email protected]