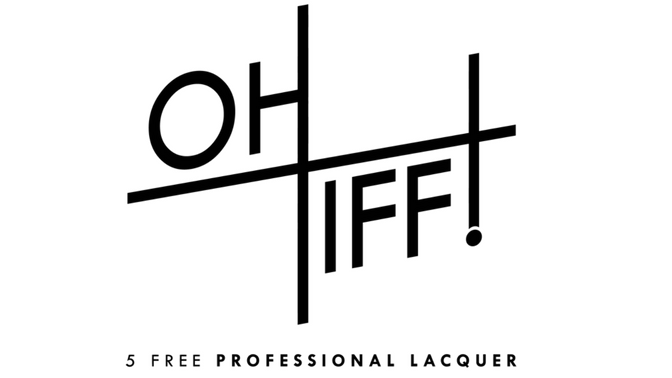 A brand that genuinely cares about your health as a consumer, as well as the environment, and the welfare of animals, is a brand to support. But not just for those reasons; the quality of OH TIFF's products are reflected in the ingredients they use…and as a result, customers can't seem to get enough.
We've been fortunate enough to catch up with Tiffany Lopez-Mays, Founder of OH TIFF!, to find out more about this ethical, professional-grade nail polish brand.
Q: What was the motivation behind staring "OH TIFF!"?
​The idea of creating OH TIFF! Vegan Polish stemmed from an old tradition with my daughter. We'd sit on the floor of my closet since she has been of age & paint each other's nails. While this bonding time has created some of our most precious moments, it was also very apparent that we couldn't be in the close quarters too long without feeling sick from the fumes. Ever notice the manicurist wearing a mask? There's a reason why they wear them & there's a link between lung cancer and manicurists.
OH TIFF! contains water soluble and plant-based ingredients. Also, we do not include any animal by-products or test on animals; this is what makes us vegan & cruelty free. So, not only are we reducing the toxins in the environment, vegan polish is the healthier choice for everyone, including the animals.
Our nail beds are directly connected to the blood stream & our fingers are making constant contact with our mouths and our food. Therefore, creating OH Tiff! was so important to me. With a personal background in modeling & fashion, it was important to be fierce and bold with the line. We didn't compromise on colors, & that is what I call:  "Fashion in a bottle". Now, I can provide a healthier yet fashionable option to women around the world. NAIL POLISH MATTERS!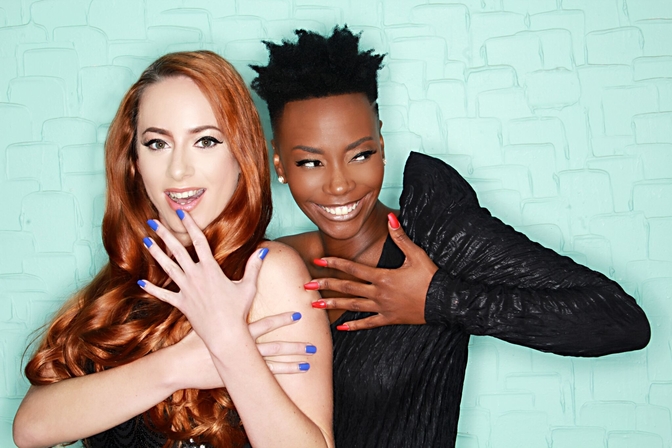 Q: Why do you think so many companies still choose to test cosmetics on animals?
Many traditional nail polish brands are compromising values for material gain. Values, moral standards and ethics are more important than profit margins and quarterly reports. We are not in the business of sugar coating the obvious; it's a choice, a consistent choice that a brand decides is either important to their foundation or not. It takes that same initiative and compassion to be vegan. You make a choice to stand for what's right.
Being a proud vegan brand is what we represent first and foremost. We wanted to present a healthy alternative to our consumer, that's friendly to our fur bearing creatures, while helping to do our part for the environment. Values and ethics are the highest priorities for OH TIFF!
Q: Are you currently pursuing PETA, Leaping Bunny or other 3rd party vegan/cruelty-free accreditation?
This is our first year in business, and as a new company, we're still becoming acclimated to the market and it's various respected organizations. We are seeking accreditation from Leaping Bunny currently, but have already been reviewed and verified by Ethical Elephant (Canada), Address Chic (UAE/Dubai), and Adorli (London). (Update – OH TIFF! is now certified by the Leaping Bunny program as Cruelty-Free).
Q: "OH TIFF!" is known for, among other reasons, not using any animal or insect ingredients in your formulations; is it difficult to formulate certain shades of red nail polish without the use of carmine?
Absolutely not; it's completely unnecessary!
Q: Why do you think so many nail polish companies still choose to use carmine?
I think change is hard for some brands. It's easier to do what has been done for so long and for some, a seemingly safer business move is to not change the formula in traditional polish; sticking with what "works" instead.
Many large companies do not care about our health or the environment, period. They care about how much money this bright red polish "Fire Hydrant" will bring in for their company. It's a numbers game, just like the meat industry!
Q: Do you know if a lot of your customers are vegan, or just people who appreciate great nail polish?
There is definitely a mixed customer base. Even our repeat customers are both. At first, we assumed we would only sell to health-conscious females that lived the "vegan" lifestyle, but that wasn't the case at all. I'm beginning to believe that more people are wanting a change, and that their interest in the health factor is genuinely moving in a positive direction. Once OH TIFF's importance is explained to new customer, they almost immediately say they are disposing of all they're old polish and "going clean". The repeat customers come back because they love the product.
Q: What have you learned about the vegan community since starting "OH TIFF!"?
The vegan community is extremely active in their pursuit of raising awareness and promoting the education of all the benefits of veganism. This way of life is truly home for us! Branding ourselves as vegan gives us a sense of purpose and responsibility.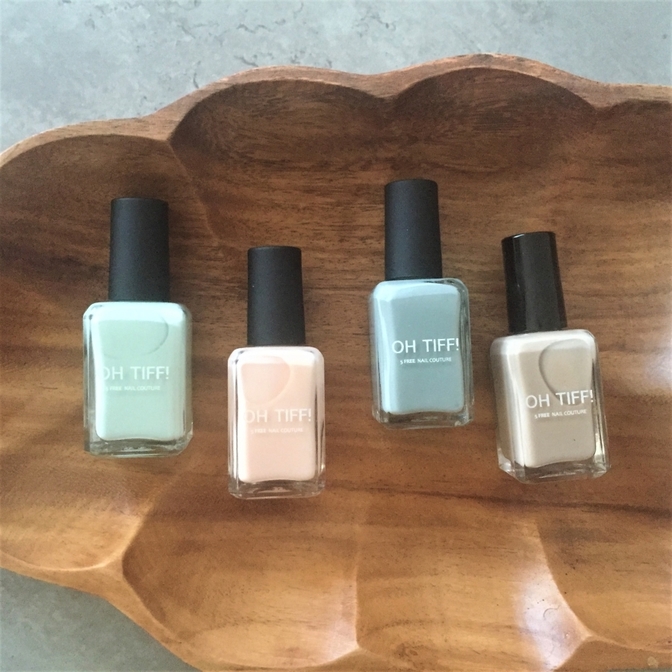 Q: Do your products get a lot of celebrity/mainstream media attention?
We look forward to collaborating with celebrities on both local and mainstream media platforms. This hasn't happened yet, but I must say whomever we collaborate with in the future must share our same values in order for the collaboration to happen. Compromising the brand's value or its reputation will not happen for any celebrity endorsement.
Some recent collaborations include: "National Organic Brand", "Origins", "Adamo Nail Bar" in Austin Texas, "Nails with a Purpose" and "Dressember" in Los Angeles, CA. The two latter organizations open doors of revival for women who have been exploited through sex trafficking.
Q: Are there any colours/shades that your customers can't seem to get enough of?
Our top sellers depend on the season but our Gel & Matte top coats are what we seem to run out of the quickest.
So, one of the coolest, most effective & unique features about our polish is you get two looks in each bottle. Any color in our collection does not require a top coat. They're perfect without a top coat but if its your preference to add a Gel Top Coat to any color, you may do so without the UV Light. Our Gel is completely non-toxic and cures in natural sunlight or with a small fan if it's raining out – lol! The Matte top coat gives the same coat of polish a completely different look.
Q: Where can "OH TIFF!" products be purchased?