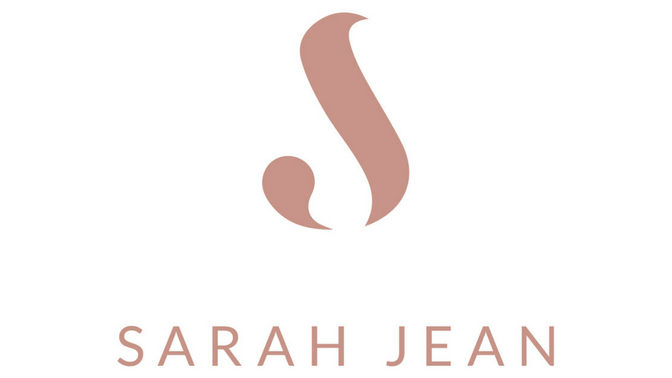 Sarah Jean eyelashes are known for being long, flattering, fluttery and blending beautifully with your real lashes, thus adding instant glamour to your eyes. Did you know they're also vegan, cruelty-free, latex-free, water soluble and non-allergenic?
We've been lucky enough to catch up with Sarah to find out the motivation behind starting this conscientious and user friendly brand, what her plans for the future are, and where her amazing lashes, lash glue and eyelash tweezers can be purchased. 
Q: What was the motivation behind starting Sarah Jean?
I was applying false eyelashes for an event and it was difficult and messy. I had one eyelash half attached and I was using a bobby pin to help apply. I thought, "there has to be an easier way to apply". I asked my friends if they wear lashes, and they said they would more often, but they struggled to put them on. So I started some more formal research and saw that there was a need for an easier, mess-free solution.
Q: What kinds of products do you currently offer?
Sarah Jean has eight products, including the signature eyelash glue in clear and black; five high-quality, flattering, synthetic eyelash styles; and the very handy eyelash tweezers. I am manufacturing another product at the moment, still in beauty, but not eyelash related. So stay tuned!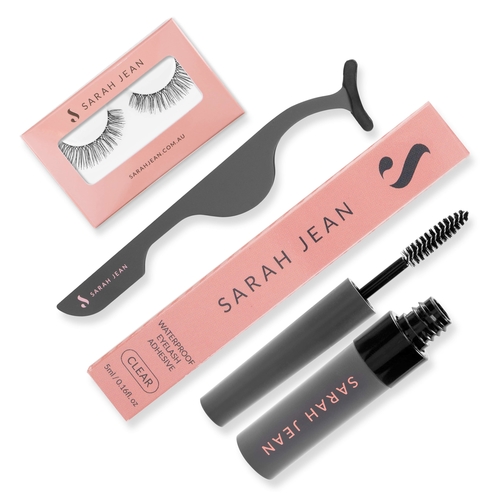 Q: Do you find it difficult to formulate eyelash adhesives without the use of ingredients that are derived from or tested on animals?
It wasn't difficult as such, but really time consuming. From the onset, I wanted the brand to be cruelty-free. Equally as important, after thorough research, it was evident there many eyelash glues contained ingredients that caused allergic reactions. So I needed a glue manufacturer that was cruelty-free but who was able to provide a glue that was gentle and free from formaldehyde and latex for example.
Q: What are some of the advantages to using the materials you use, versus animal hair or fur?
Synthetic eyelashes are reusable and excellent quality. I spent months sourcing lash samples and finding a factory that met my requirements. So again, it took a lot of time. Synthetic eyelashes can be associated with thick, fake looking, plastic lashes, but factories now can product lash strands that are so fine and natural looking, the eyelashes perfectly replicate real hair. The Sarah Jean false eyelash styles are long, flattering, fluttery and blend beautifully with your real lashes while adding instant glamour to your eyes. Everything false eyelashes should do – there's no need to use real hair.
Q: There seem to be a lot of false eyelash brands dubiously claiming to have "cruelty-free" natural lashes sourced "ethically" from animal hair and fur. In your opinion, is it possible to source these materials ethically?
I am contacted weekly by manufacturers in China saying they have best quality mink hair lashes; and that they use the hair that has fallen out. Real hair was never a material I considered using so as to how ethical or not these factories are, I can't comment further as I haven't thoroughly researched them. But the animals are in captivity for the sake of false eyelashes, which I don't agree with. You can get natural looking synthetic lashes so for me, I would never consider any other material than synthetic.
Q: Do you know if a lot of your customers are specifically interested in vegan & cruelty-free eyelashes – is it just a happy coincidence, or is it difficult to say?
Many of my stockists and customers actively search for cruelty-free eyelash products. So the fact that I have the certification from PETA in Australia and the US for this, it's been a great attribute. And it is great to know that people will spend the time looking for a quality brand that has the same ethos as they do. And they become loyal customers too, which is fantastic.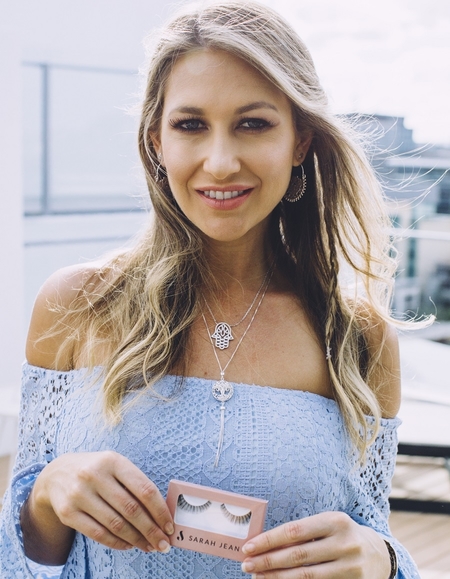 Q: What would you say to customers who are worried that they may have allergic reactions to your eyelashes?
The Sarah Jean eyelash glues are latex free, antiallergenic and water soluble. I've had people with sensitive skin and eyes use the products with no problems. It is always advisable for people to do a swot test if they are worried. Sarah Jean has many reviews on the Facebook page and via my website that I encourage people to read if they are unsure about trying. They're unedited, so not all the reviews are 100% positive but you'll see a number of people were sworn off false eyelash products until they tried Sarah Jean. Either because they struggled with the application or they reacted to other glues. But not anymore!
Q: What testing methods do you use for the adhesives?
During the R&D phase, I had a group of people test the products. Of course, first time around, the products needing minor tweaks. These changes were applied then tested again. Some of my stockists are really big on selling only ethical products, and they personally test every product. A couple of these buyers said that they even slept in the lashes to see if they reacted to the glue after that long wearing them. All reported no issues at all. At the end of the day however, it is a glue, and while it has safe and gentle ingredients, if a person knows they have sensitive eyes and skin, it's always advised to test a little glue on your skin first.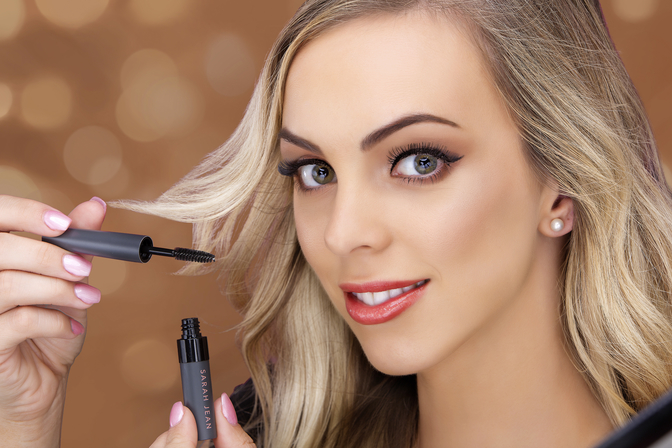 Q: Sarah Jean is known for introducing the world's first party eyelash adhesive with a mascara style applicator brush. Are you starting to see companies imitate this?
One of my stockists were contacted by the buying manager of large well-known beauty brand wanting to buy the products. It's a little suspicious that they didn't buy from the Sarah Jean website directly. There are a few little secrets to having a glue in this type of bottle, which took a lot of trial and error so hopefully I have time up my sleeve to continue growing the brand before the glue is copied. I have five factories that I work with so there is no one factory that can produce the finished product. But if I made it happen, it's possible anyone else can. Hopefully they give credit to me 😉
Q: Are there currently a lot of retailers carrying your products?
Sarah Jean is sold nationally in Australia by many stockists; it's also available at sarahjean.com.au and in July, I launched on amazon.com. You can view the Sarah Jean storefront here. Selling on Amazon has been great. While the Sarah Jean products are little and light, postage fees from Australia are expensive and it's slow. So Amazon offers a quick and cheap solution for accessing the products if you're outside of Australia.
---